Windows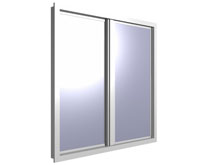 Huddle Steel Buildings uses a window with extruded aluminum frame unit designed specifically for use in metal buildings.
The window is self-flashing. Head and sill trim are attached to the window frame in the factory. The universal jamb pieces are snapped in place without the use of fasteners and work well with all MBD's standard panel profiles.
The window frame features a ¼" polyurethane thermal barrier and windows are glazed with ¾" insulated glass. The window finish is prime painted and finished with white or bronze paint. The windows are individually crated for safe shipping.